Monday March 21, 2022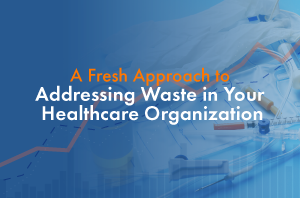 According to the October 2019 issue of JAMA, waste in the US Healthcare System is estimated to be 25% of healthcare spending, equally up to as high as $935 billion. Six areas contributing to this waste include the failures of care delivery, care coordination, pricing, overtreatment/low-value care, fraud and abuse, and administrative complexity. 
 How does your healthcare system address these six areas of waste? Do you have a partner that can identify opportunities, benchmark for clinical best practices, and track and trend changes to ensure compliance and sustainability? Do you have the data readily available to help navigate supply utilization while aligning clinical quality?                  
 If the answer to any of the above is "no", then now is the time to reevaluate the systems and processes for eliminating waste within your organization. If not already implemented, consider a clinically integrated supply chain. This collaboration between supply chain and clinicians can be what your organization needs to spearhead the conversations.
 Among many strategies, inviting clinicians to a seat at the proverbial supply chain table can elevate outcomes by providing clinical expertise to tackle most of the waste areas mentioned above. With a mission of "patients first", supply chain and clinicians can work together to standardize patient care, address product utilization, prevent waste and ultimately provide high-value care to those they serve. As a tool, Blue.Point can help align utilization with best practice and can be easily implemented. Email info@bluepointscs.com and let us show you how to navigate your supply utilization costs using our suite of tools, clinical experts, and experienced analysts to zero in on waste reduction opportunities.
By: Anne Marie Orlando, RN, RCIS, CVAHP