Wednesday October 25, 2023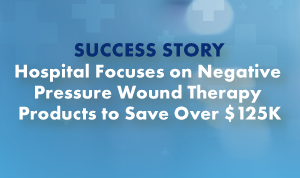 Tufts Medical Center a 415-bed academic medical center, uses Blue.Point's product utilization tool to identify opportunities that support the hospital's initiatives, as well as improve the quality of care for their patients. Blue.Point's utilization study and custom action plan helped the hospital's value analysis team perform an extensive review of their negative pressure wound therapy product inventory. The utilization study and action plan provided Tufts Medical Center a better understanding of how their current negative pressure wound therapy product was being used at the hospital. That information also revealed an opportunity for the hospital to decrease product SKUs by standardizing with their incumbent supplier. Following Blue.Point's action plan recommendations to decrease product SKUs while maintaining clinical quality, in one year, the hospital realized savings of $125,324.
Blue.Point solutions revealed:
- Opportunity in SKU reduction

- Identified changes supported by unbiased clinical research

- Enhanced tier pricing with better contract alignment

- Significant savings when streamlining product offerings


If you want to learn more about utilization and how Blue.Point can identify savings opportunities, please reach out to info@bluepointscs.com.