Friday March 3, 2023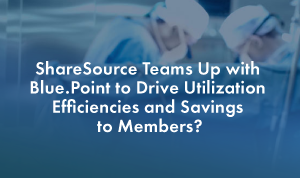 FOR IMMEDIATE RELEASE – March, 2023, Andover, MA, – ShareSource, a group purchasing organization, is thrilled to announce a strategic partnership with Blue.Point. Through Blue.Point's data management tools, ShareSource members can save by analyzing product utilization, identifying savings opportunities, maintaining clinical product quality, and progress tracking.

This partnership aims to bring product utilization with clinical best practices to uncover achievable savings for members that integrate Blue.Point into their facility. Blue.Point's detailed analytics allow health systems to compare their usage and practice across their system to other IDNs. The average savings per staffed bed is $6,000 for facilities that team up with Blue.Point.
"Blue.Point partners with health systems to identify utilization opportunities and align to clinical best practice – the result is consistent patient outcomes and generated savings. This is achieved through our robust comparator analytics and benchmarking tools that provide visibility into practices and products across departments and within a network. Furthermore, Blue.Point provides an achievable action plan, based on unbiased clinical research, as well as reporting capabilities to implement change and sustain savings," said Vice President, Business Development, Laura Cieplik. As a recent example, our customized action plan helped to identify a higher than benchmark utilization rate of triple lumen peripherally inserted central catheters. This practice did not add value to the care of the specified patient population. This saved a 200+ bed hospital system over $69K and better aligned the hospital to their patients' clinical needs.
About Blue.Point
Blue.Point partners with health system supply chain and value analysis teams to identify, implement, and sustain product utilization savings. We have built advanced data management capabilities that enable a health system to have unprecedented visibility into the products they are using on their patients to identify clinical practice variation. Blue.Point's solutions support hospitals and healthcare providers by identifying, implementing, and sustaining changes to product selection and clinical practice variances that may affect the overall cost and quality of care. For more information visit www.bluepointscs.com or contact Laura Cieplik, VP of Business Development, at lcieplik@bluepointscs.com.
About ShareSource
ShareSource is a Group Purchasing Organization focused on reducing costs, improving efficiency, and creating effective purchasing solutions for its members. ShareSource is a wholly owned subsidiary of The Healthcare Council, a 501(C)3 non- profit organization founded in 1946 as the Hospital Council. The Healthcare Council is an association of healthcare providers, schools and health-related institutions assisting members by promoting intelligent planning, facilitating discussion of common problems, and acting as a clearinghouse for the exchange of information. The program through ShareSource sponsorship is available to all U.S. healthcare providers, non-profit organizations, charities, churches, schools/colleges (public and private) and all businesses. To learn more visit www.share-source.org.