Monday November 13, 2023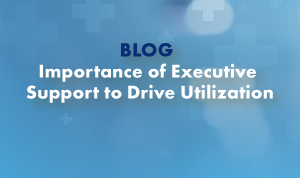 I have spoken to many customers and potential customers about clinical product utilization and how it can be the key to sustainable savings and increased quality of care. While many teams charged with implementing utilization savings have support from their Executive Sponsor, I speak to just as many who lack this support. This creates a problematic savings journey to generate savings beyond the contract.

The role of the Executive Sponsor is to support the efforts of the Value Analysis or Supply Chain team. Specifically, they should navigate complex decisions, establish effective communications, engage all stakeholders, and lower or remove barriers to implementation. The Executive Sponsor must understand the importance of their role and how it can impact their organization.
A successful product utilization savings program's short-term benefits encompass several vital factors, such as improved clinical outcomes, heightened patient safety, and increased patient and clinician satisfaction. Along with these, we must also include enhanced operational efficiencies. Long-term benefits include a culture of quality and safety within the health system as evidence-based practices take precedence in strategic discussions. Clinical product utilization programs reinforce the sustainability of cost savings due to the optimization of supplies and waste reduction. In turn, this leads to better financial stability for the organization. Ultimately, none of the above can occur without strong Executive sponsorship, and as Value Analysis or Supply Chain professionals, we must ensure our Leaders understand the importance of their participation.
Here are a few tips to help bring this awareness to your executive leadership:
1. Explain your role within the organization. The Executive Sponsor may know your title but may not understand all the aspects of the role and how it supports organizational goals.
2. Let them know the expectations of an Executive Sponsor (listed above) and that they are not needed daily. However, when called upon, it is because you have reached an impasse, and they will be the key to success.
3. Be judicious with requests. You do not need to employ their assistance with every obstacle.Choose projects that align with the goals of the organization.
4. When you do request assistance, be clear and concise. What is your ask? You must verbalize this clearly and explain why it is vital to the organization.
5. Build trust with your Executive Sponsor. You can do this by mitigating risks to the organization, proactively showing ROI and value to the organization, and providing positive feedback when they help bring success to a project.
If you want to learn more about utilization and how Blue.Point can identify savings opportunities, please contact Laura Cieplik by email at lcieplik@bluepointscs.com or call 978-747-1538.