Wednesday May 10, 2023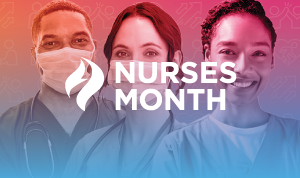 May is National Nurses Month and an opportunity to recognize the hard work and dedication of nurses and their role in promoting health and wellness.  Nurses are integral to the healthcare team, working alongside doctors, therapists, and other healthcare professionals to provide patient-centered care.  They are often patients' first and last point of contact, providing a continuity of care critical to positive health outcomes. 
The celebration began in 1993, when the American Nurses Association (ANA) designated May 6th  as National Nurses Day to coincide with the birthday of Florence Nightingale, the founder of modern nursing.  In 1994, the ANA expanded the celebration to a week-long event; in 2003, it was extended to a month-long recognition.
National Nurses Month is an opportunity to highlight the challenges that nurses face, including the increasing healthcare system demands, nursing shortages, and the ongoing COVID-19 pandemic.  Nurses are the backbone of the healthcare system, providing essential care, comfort, and support to patients and their families.  Here, at Blue.Point, we are proud to work alongside our nurses and support nurses who care for patients at the facilities we serve.  Thank you for your contribution to healthcare, and Happy Nurses Month.  #ANANursesMonth #YouMakeADifference