Monday January 31, 2022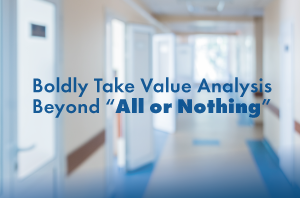 Occasionally, there will be times when a Value Analysis (VA) team and stakeholders disagree on a particular aspect of a project. It could be a product conversion, a practice change, or a complete elimination. It doesn't necessarily mean one is right or wrong - there is just no common ground. The Association of Healthcare Value Analysis Professionals refers to the term BATNA, which stands for Best Alternative to Negotiated Agreement. Not exclusive to the VA realm, this occurs when there is an impasse and parties agree to the most favorable option acceptable to both.
            When working with Blue.Point customers, we review their Utilization Studies. Utilization Studies are evidence based summaries that compare a facility's product usage, supplier, and cost to other similar health systems and provide best practice recommendations for product utilization. There are times, when we evaluate a particular study, that hesitations arise due to negative past experiences. This stalemate is why having a Blue.Point Action Plan is beneficial. Our proprietary Action Plans offer a multitude of ways to review your facility's data and take action. The comparators Blue.Point offers, such as utilization rates, product mix, pricing, manufacturer count, and others, helps facilities prioritize activities to address their savings goals.
            We, at Blue.Point, compare Action Plans to a roadmap. The end goal is Utilization Savings, and each of the action items represents one piece of the map. While not every piece needs to be in place to achieve the goal, you can choose to address each one of the action items or have the flexibility to select the items that will work best for your facility at that time. For example, a facility may review product mix in the Exam Glove Utilization Study but not address the high number of manufacturers used, due to supply issues. It is okay to approach utilization savings this way, as the VA goals could be challenging to achieve and projects might not move forward if it presents as an all-or-nothing scenario. Having a tool that can be flexible and provide options is essential for our customers and enables facilities to successfully implement utilization savings.  Contact us at info@bluepointscs.com for a demo of our tool.
By: Anne Marie Orlando, RN, RCIS, CVAHP