Thursday December 29, 2022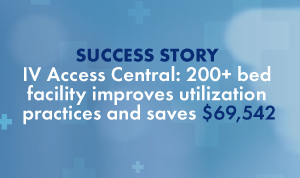 A 200+ bed hospital system evaluated the utilization of triple lumen peripherally inserted central catheters (PICC).  These devices are placed peripherally but are similar to a central line in that PICC lines deliver medications centrally.  The hospital found 27% of PICC lines had triple lumens.  Through discussions with nursing, infection prevention (IP), and interventional radiology (IR), it was realized that triple lumens were not adding value to the care of their patients.  Many times, not all lumens were used or needed to provide treatment. With insights from Blue.Point reports, the facility agreed to remove triple lumen PICCs from formulary.  Working with IP and IR, they began using single lumen PICCs for most patients and reserved dual lumen PICCs for critical patients.


Beyond the achieved savings of $69,542, additional benefits include streamlined inventory, lumen numbers now aligned to patient acuity, and fewer lumens contribute to the avoidance of misconnection, disconnection, and infection.


Blue.Point solutions revealed:
- Data and action plans highlighted high triple lumen utilization rate
- Data identified costs for hospital departments
- Our clinical overview provided necessary clinical information to hold discussions with stakeholders
If you want to learn more about utilization and how Blue.Point can identify savings opportunities, please reach out to info@bluepointscs.com.