Friday September 29, 2023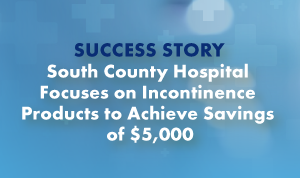 South County Hospital, a 100-bed acute care hospital, strives to provide top performing practices that offer improved quality of care for their patients. This is perfectly illustrated by aligning with Blue.Point's utilization tools that focus on eliminating unnecessary variation in practice and product usage.

South County Hospital worked with Blue.Point to evaluate their incontinence product usage. The evaluation revealed the hospital was using both incontinence pads and briefs on patients. This action resulted in excessive use of products, increased inventory cost, redundancy in clinical practice, and placed the patient at risk for skin injury.

Blue.Point's action plan recommended the hospital decrease their usage of high-cost briefs. This recommendation prompted the hospital to implement the suggested changes which included decreasing use of briefs on patients and inventory. Beyond achieved savings of $5,000, in one year, this change in process not only helped the hospital reduce spend on products but improved outcomes by decreasing risks of infection and hospital acquired pressure injuries.
Blue.Point solutions revealed:

- Opportunity to reduce product usage and inventory
- Identified changes supported by unbiased clinical research
- Significant savings and improved outcomes
If you want to learn more about utilization and how Blue.Point can identify savings opportunities, please reach out to info@bluepointscs.com.