Monday January 10, 2022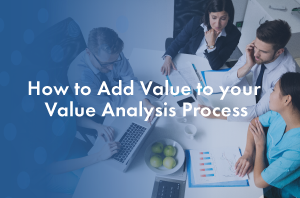 Value Analysis (VA) is a process that is complex, includes many moving parts, and can be daunting even for the most seasoned VA professional. When choosing a VA software, one must research and evaluate how well the tool assists their VA process. Blue.Point supports each step of the VA process.
Using the Target Savings Report, facilities can identify and build a pipeline of savings. Each of the Blue.Point categories can be combined with existing projects, such as new product requests or product conversions. Projects can also be selected based upon the Target Savings or even category spend. This flexibility allows VA teams to find a savings strategy that will align with their current focus.
Once a project is identified, it is important for VA teams to determine the scope of the project through included SKUs. This is achievable with Blue.Point's proprietary data categorization and available for customers to easily download. Blue.Point groups products according to a hierarchy. Purchase order (PO) data is received and classified into our utilization studies and then grouped into additional levels by functional equivalents. When combined with Action Plan Reports, VA teams can better evaluate where their opportunities lie. The additional visualizations powered by Blue.Point categorizations can help VA teams identify clinical variations across facilities and departments. Additionally, facilities can identify how they are different from Top Performers outside of their organization. Being GPO autonomous, Blue.Point provides blinded comparators and insight ensuring that VA teams can focus their efforts accordingly.
Regardless of the chosen study, implementing a utilization savings project must be based upon clinical best practice. It is important for VA teams to understand the products, clinical features available, and current guidelines. With Blue.Point, this information is readily available in presentation form, complete with references. The task of researching is removed from the VA team's responsibilities so they can focus on the important clinical conversations needed to address utilization.
The last important functionality of Blue.Point is tracking key performance indicators (KPIs) for selected VA projects. Blue.Point's project tracking will provide the ability for VA teams to review project statuses, ensure expected changes occurred, and verify those changes are sustained and track savings accordingly. If you want to learn more about how Blue.Point can support your Value Analysis process, please reach out to info@bluepointscs.com to schedule a demo.
By: Anne Marie Orlando, RN, RCIS, CVAHP