Monday March 27, 2023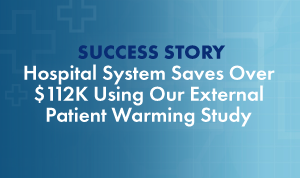 From a utilization and cost savings perspective, a 1,300 bed hospital system worked with Blue.Point to evaluate their usage of gown kits. Guided by Blue.Point's External Patient Warming Utilization Study, the hospital analyzed product cost, waste, and clinical outcomes.
Blue.Point data revealed the hospital use of gown kits resulted in higher supply cost, showed increase in product waste, and had no significant impact to clinical outcomes. Using a custom action plan, the hospital eliminated the use of gown kit products in applicable departments, saving $112,081 in one year.
Blue.Point solutions revealed:
- Blue.Point tools identified specific clinical features that contributed to higher supply cost.
- Blue.Point's proprietary data categorizations allowed for easy SKU identification.
- Blue.Point's unbiased clinical research supported identified changes.
If you want to learn more about utilization and how Blue.Point can identify savings opportunities, please reach out to info@bluepointscs.com.