Tuesday November 20, 2018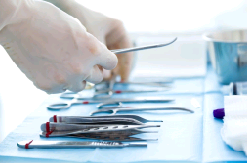 As an OR nurse I had incredible opportunities to be a part of amazing modern-day medical advancements occurring in most OR suites.  When the Stryker Makoplasty Total Knee/Hip System was first introduced at my facility I quickly learned and trained staff members how to use it and was able to take part in the ground-breaking procedures.  As a byproduct to the new procedure, I observed an incredible amount of waste.  Each procedure required the opening of new disposables.  If these high cost disposables were unused or accidentally contaminated they would be discarded.  Experiencing this sort of waste was frustrating, but this became the everyday norm for the OR.  Each time additional technology was introduced, surgeons preferred the latest and greatest products, which led to more variation and ultimately more waste. 
I noticed the same kind of waste in major spine procedures as well.  Pedicle screw implants that were too short or too long were discarded.  Unused cancellous chips were found in the trash if the surgeon decided he didn't need it.  Spine bits/burrs were discarded after a single use when they could have been reprocessed and reused. Now as the Clinical Resource Specialist at Blue.Point, I have visibility into facilities across the country and better understand the financial impact of these practices.  These medical devices all come with a high price and these are just a few examples of waste I have witnessed in the Joint and Spine services.  With Blue.Point I can see how multiple health systems are able to "Go Green" by controlling waste and share those practices with other health systems.  The stipulation that single use items never be reused or reprocessed places the entire healthcare system in a position of financial hostage to manufacturers (Collier, 2011).  Our analytics allows me to see if health systems are actually reprocessing and reusing medical devices and to share the practice and financial impact to facilities resisting the change.  How many disposables on your OR shelf are available in an equivalent, reusable option?  How often are items opened and unused in your OR?  Health care leaders, providers, nurses, and surgeons need to be mindful of medical waste, the environmental impacts, and how it is contributing to the high cost of health care. 
According to Practice Green health, U.S hospitals create 5.9 million tons of waste annually of which between 20-30% is generated by the OR (Jablow, 2016).  How does a forward-moving health system control the amount of waste generated in their OR while also incorporating the cutting-edge technology to provide the best care?  One strategy is to promote price transparency.  If surgeons are aware of the cost of their products, the overall spend per procedure, and its relationship to reimbursement, they will be more inclined to help participate in cost-saving initiatives (Castellucci, 2016).  A second strategy is to consider "Going Green."  Although "Going Green" initiatives began in hospitals in the 1970's by recycling bottles and cans (Jablow, 2016), today we see many facilities opting to "Go Green," recycling things far larger and much more expensive than soda cans.   Medical Centers are "Going Green" by using energy more efficiently, reprocessing medical equipment, and reducing waste.  Slowing the environmental impact of medical waste has saved thousands of dollars and has a positive effect on population health.  It is time to stop excusing the wasteful practices of the OR as "that's just the way it is." 
Today, many hospitals have already taken steps to implement waste initiatives; however, despite the acceptance of "Go Green" practices, there are still many hospitals that do not monitor waste management.  Blue.Point tools and analytics provide visibility into product management and implementation practices for hospitals and health systems.  Healthcare clinicians and leaders can take charge and control waste by prioritizing "Go Green" practices to create a more sustainable healthcare environment, improve efficiency, and realize tangible savings.   
References
Collier, R. (2011). The ethics of reusing single-use devices. CMAJ 183(11):1245. doi: 10.1503/cmaj.109-3907
Castellucci, M. (2016). Hospital ORs may waste millions a year in disposable medical supplies. Retrieved from http://www.modernhealthcare.com/article/20160907/NEWS/160909935
Jablow, M. (2016). Teaching Hospitals Go Green. AAMC News. Retrieved from https://news.aamc.org/patient-care/article/teaching-hospitals-go-green/
McWhorter, B. (2016). 5 Key Benefits of MAKOplasty Knee Surgery. Retrieved from       http://www.hedleyortho.com/5-key-benefits-of-makoplasty-knee-surgery/
Practice Greenhealth. (2017). Material and Waste Streams. Retrieved from https://practicegreenhealth.org/topics/waste/waste-categories-types
By: Stefanie Sorrentino